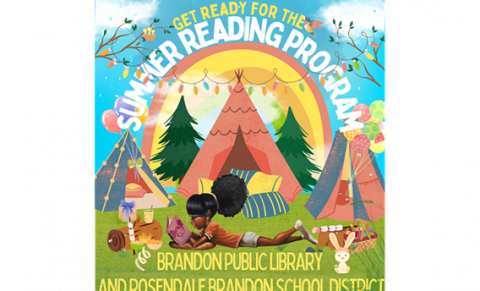 Brandon Public Library and the Rosendale-Brandon School District are teaming up to put on another awesome Summer Reading Program!
Click below for your reading record (printed on 11"x17" paper):
THEME:
With the theme, "All Together Now", help us decorate the Brandon Library circ desk by accessorizing the puzzle piece in your reading record. We'll put them together on the circ desk.  By turning in your puzzle piece, you will receive a prize.
READING FOR PRIZES:
Complete SIX activities per week to earn a ticket. Fill in your activity chart as much as you can, and claim tickets by July 21 for prize drawing. You can enter into a prize basket you want to win.
PRIZES:
35 prize baskets for all ages to choose from:
1. LEGO
2. Fluffy Slime
3. Slime
4. Sports: Baseball
5. Sports: Basketball
6. Sports: Football
7. Sports: Soccer
8. Music
9. Outdoor/Camping
10. Reading 1
11. Reading 2
12. Crafts 1
13. Crafts 2
14. Games 1
15. Games 2
16. Hot Wheels
17. Movie Night
18. Area Restaurants 1
19. Area Restaurants 2
20. Area Restaurants 3
21. Construction
22. Outdoor Fun 1
23. Outdoor Fun 2
24. Outdoor Fun 3
25. Fairy Fun 1
26. Fairy Fun 2
27. Rock River Golf
28. Gaming
29. Gas Card
30. Coffee Shop
31. Local Shops
32. Local Eats
33. Robot Mouse
34. Robot Mouse
35. Princess Pack
EVENTS:
All Events for all ages on Wednesdays from 2:00 pm - 3:30 pm unless noted.
June 14: Outdoor Games Galore - Join us to play Large Outdoor Jenga, Ladder Toss, Cornhole, Connect 4, Checkers, and Lawn Bowling.
Location: Depot Park - Brandon
Rain Location: Brandon School Gym
June 21: Library LEGO Challenge
Location: Rosendale Primary School Library
June 28: Technology Petting Zoo - Join us to try some new library gadgets and tech toys, from circuits, to robots, coding, Virtual Reality, and a drone.
Location: Rosendale Primary School Gym
Sponsored by PBS Kids with a PBS Kids station.
July 5: Earth, Music, Magic Show - a fun, interactive and exciting educational musical enrichment presentation featuring primitive musical instruments, and celebrating the creative exploration of human expression through sound.
Location: Brandon School Auditorium
July 12: Movie Night at 6:00 pm
Location: Brandon School Auditorium
Check Facebook for any updates and cancellations.
LOCATIONS:
Brandon Public Library
117 E. Main St., Brandon
(920)346-2350
Brandon Depot Park
E. Main St., Brandon
(Across from Brandon Meats)
Brandon Elementary School
200 Bowen St., Brandon
(920)346-2915
Rosendale Primary School
300 W. Wisconsin St., Rosendale
(920)872-2151
CONTACT:
Pam Mumm
mummpam@rbsd.k12.wi.us
Christy Ross
ross@brandonlibrary.net