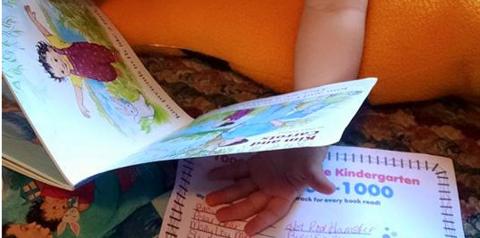 All families with children age birth to 4 are encouraged to sign up for 1,000 Books Before Kindergarten. 
This free program, made possible through a grant from Target, encourages you to read 1,000 books with your child before he or she enters school – a goal experts say children need to help them learn to read for themselves.
One of the best ways to encourage learning is to spend time sharing books every day.  Reading together helps develop important pre-reading skills that provide a solid reading foundation – a key to school and learning success.  Plus, sharing stories together is fun!
Easy, sign up today-
Receive a free folder, book bag, and reading record sheet.  Then, start reading.  Prizes are earned along the way.
This club has no end date except your child's going to school, so don't feel rushed – just enjoy the experience!  Take every chance you have to read with your children, tell and talk about stories, say nursery rhymes, sing songs, and attend library programs.  By reading just three stories a day you and your child will have read over 1,000 books in one year.  You will also have shared many special moments along the way.
The library is a fun place featuring books to check out, free programs and great suggestions for what to read.  Stop in often and talk to our friendly staff – we are here to help.
Finishers: