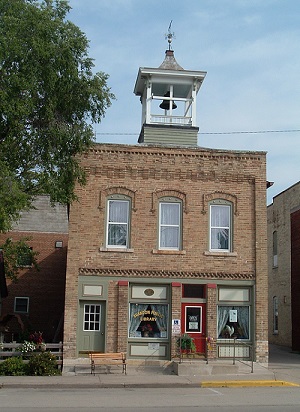 The Brandon Public Library began as a cold storage building and harness shop built in 1894 by Charles R. Ellis, a local village merchant.  In 1897, the building was sold to the Village of Brandon, which made the upper level into the Village Hall and the lower level into a one-room fire department with an addition to the roof - the bell tower.
By 1912, the Thursday Club, a local women's club of "social and intellectual culture", along with other local clubs stressed the need for Brandon to have a free Public Library which would be located on the lower level of the old Ellis Block.  Funds were granted by the Village to remodel the front room, and on March 27, 1913, the Brandon Public Library opened for the first time.
English, German, and Dutch books, along with a natural collection of birds, animals, insects, and minerals – all donated by Village patrons – made up the first collection of the Library material.
Wisconsin State Historic Place
April 27, 2007
National Historic Place
January 2008
The Library Board and Staff would like to welcome you to the Brandon Public Library.  We hope you enjoy every visit and you're inspired to return again and again.
Feel free to contact me, Director Christy Ross, any time about whatever is on your mind regarding library services.
Sincerely,
Christy Ross, Director
Brandon Public Library
"The only thing that you absolutely have to know, is the location of the library."
-Albert Einstein