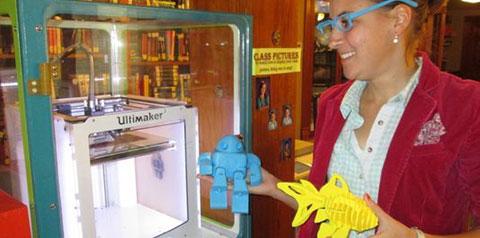 The Library owns an Ultimaker 2 3D printer for the public to use.  The printer's extruder head heats to over 400° Fahrenheit so users will need to be trained first - about an hour - before use.
3D printers are additive printers, in which layers of material are formed to create an object. The printer has a heated extruder (print head) that melts the plastic into a thin stream – 200 microns thin – and layers the plastic from the base up. Our 3D printer can print from any .STL or .OBJ file. Print size is limited to 9″ long X 9″ wide X 8″ high. The library has a variety of filament colors available but you will need to verify current inventory. At this point, we do not charge for printing, but ask for a donation to cover the cost of the print.
Contact Christy for details or to schedule a training.